African Wind Power - Wind Turbines
REAL PEOPLE - NOT "BUY IT" BUTTONS
---
African Wind Power 3.6
Strong as an elephant - not quite as heavy.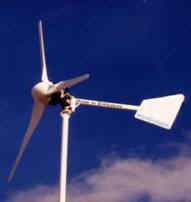 We have the AWP3.6 model available in various voltages. The model number refers to the rotor diameter in meters (11.8 ft), not the machine's maximum power production.
The AWP3.6 has approximately a 1 kilowatt peak output. It produces more kilowatt hours of energy per rated watt than machines that have comparatively smaller rotor diameters.
These machines are suited to get the most energy from low to moderate wind sites. They are simple, sturdy and dependable. They are also very affordable.
NOW AVAILABLE!
Direct grid connect system without batteries. We can now offer a 110v AWP 3.6 machine with an SMA Windy Boy Inverter, along with a controller and diversion load for $5499.97.
This system is perfect for on-grid applications. It produces significantly more energy because the inverter allows the generator and the blades to function more efficiently. This system also eliminates the energy losses of a battery bank, as well as, the expense and maintenance of batteries.
AWP Pricing
All turbines are shipped truck freight
---
| Model | |
| --- | --- |
| 24 volt 850 watt 3.6 Wind Turbine - Turbine with Controller and Diversion | $2499.97 |
| 48 volt 1000 watt 3.6 Wind Turbine - Turbine with Controller and Diversion | $2469.97 |
| High Voltage 1600 watt 3.6 Wind Turbine - Direct Grid Connect System | $5499.97 |
| OPTIONS | |
| Stainless Steel Tail | $139.97 |
| RTM Blades | $95.97 |
| Slip Rings | $95.97 |
We also offer a 12 Volt 3.6 wind turbine version on special order Please call 888-826-0939
110v Direct Grid Connect System includes the generator, a SMA Windyboy Inverter, a controller and a diversion load.
Shipping weight 400 pounds.
Tower top weight 250 pounds.
---
TOWERS
We sell tower kits for the AWP3.6 machines. They are guyed tilt-up pipe towers. You can buy the complete tower or supply your own pipe for the tower and the gin pole. Our kits are based on 4-inch schedule 10 pipe in 21-foot sections. All of the hardware including the couplers, end fittings, rigging and ground anchors are galvanized. Turnbuckles and hoist tackle are also included.
The 43 and 64 foot towers have a guy radius of 21 feet. The 85 and 106 foot towers have a guy radius of 42 feet. The 127 foot towers have a guy radius of 54 feet.
| | | |
| --- | --- | --- |
| Height: | Without Pipe: | With Pipe: |
| 43 feet | $1549.97 | $1949.97 |
| 64 feet | $1849.97 | $2349.97 |
| 85 feet | $2349.97 | $3099.97 |
| 106 feet | $2699.97 | $3649.97 |
| 127 feet | $3399.97 | $4649.97 |
Free standing and guyed lattice towers are also available.
Please inquire for prices.
Selecting the correct tower size can make a big difference in energy production. In general, towers should be installed so that the machine is 30 feet above all obstacles surrounding it, within a 500 foot radius. This is to ensure that the air is free of turbulence. It will make the wind generator run more smoothly and create less stress on its parts.
Another consideration for selecting tower height is that, the higher the tower, the faster the wind speed. So, if you are unsure about how high you need to go, bigger is better.
---
2-Year Limited Warranty
for
African Windpower (AWP) Equipment
Wind generators, controllers, and associated equipment manufactured by African Windpower and distributed by Abundant Renewable Energy (ARE) are warranted against defects in design, material, and workmanship for normal use for which intended. The warranty period extends two years from installation or three years from the date of purchase by the user, whichever comes first. During the warranty period AWP will repair or replace, at its option, defective components and assemblies. In North America warranty service for AWP is provided by ARE. Customers should ship defective components and assemblies to ARE at their own expense for repair or replacement. Return shipping will be provided. Please call ARE and make arrangements before shipping.
This limited warranty does not cover the following:
Towers, equipment, materials, or supplies not manufactured by AWP. Towers manufactured or sold by ARE are covered by their own separate warranty.
AWP equipment that has been improperly installed or modified without approval from AWP or ARE.
Damage or loss from winds in excess of 45 m/s (100 mph)
Lightning damage or other acts of God.
Incidental or consequential damages.
AWP reserves the right to make design changes, improvements, or additions to its products without obligation to install such changes or improvements in existing products.
This warranty may be extended to five years by the purchase of an extended warranty. The extended warranty shall have the same terms and conditions, except it shall be in force for 5 years from the date of installation.
---
The Most Complete Renewable Energy
Product Inventory
There are over 400 Pages on this Web site. It is one of the world's largest Renewable Energy web sites. Take some time and check out the amazing and essential products we offer.
Our solar panels are the lowest price on the planet
---