System Monitoring and Metering
REAL PEOPLE - NOT "BUY IT" BUTTONS - 888-826-0939
---
Your batteries represent a significant and very expensive part of your renewable energy system. It is both prudent and important to take good care of this investment. The meters listed below will keep track of the energy your system has available, as well as energy consumed--thereby insuring adequate reserve power capacity, as well as to insure the longevity of your battery bank.
---
Tri Metric Meter Model 2025
This is the meter that we install the most. It's dependable and it has been around for years.
The TriMetric 2025 battery monitors are designed to assist in battery care, conservation and system maintenance of battery powered systems that use storage batteries with system voltage from 12-24 volts and also 48 volts using the the 48 volt adapter.
They provide the user with information on battery "volts", "amps" and "amp-hours" and the newest version also provides "battery percent full" information, based on measuring the amp-hours removed from the battery system. Reliability, accuracy and simplicity are key product objectives. The TriMetric requires an external shunt located near the batteries to measure "amps" and "amp-hours". The meter readout may be located hundreds of feet away from batteries. We usually connect to the shunt with a 4 wire 22 Ga. cable kit with the fuse and ring terminals installed.
BOG-20002 The newest version of TriMetric (Model TM-2025) from BOGART ENGINEERING has been available since April 1998 and incorporates some "user friendly" improvements including a "Battery % full" display, and a "battery reminders" feature to help users to better care for batteries which should make it the more favored choice for most users. However all TriMetrics measure "volts" "amps" and "amp-hours" with the same accuracy. The older TM-1B and TM-2B may still be preferred by a few "energy experts" who wish to measure battery charge efficiency, or want the ability to display time-filtered "amps".
---
BOG-26030 Install Kit, 50' of 22 ga. wire with ring terminals and fuse and holder installed.
Made for us by BOGART ENGINEERING. Connect to the shunt with this 4 wire 22 Ga. cable kit the fuse and ring terminals are already installed for you. You could make it your self but why? This is too easy. We can also custom make lengths longer than 50' if you need call Tom at 888-826-0939 to discuss your needs.
---
TriMetric Meter Pricing
Check out the NEW PentaMetric Meter System from Bogart Engineering
---
TRACE TM500 Meter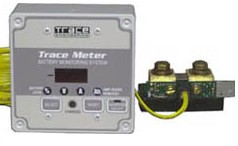 The Trace Meter is both a simply energy supply "fuel gauge" AND a sophisticated user-option "energy storage computer" that records system characteristics and data. The Trace Meter Provides data on all critical system functions, and is capable of monitoring total accumulated charge power from sources such as photovoltaic arrays, wind power systems, and generator sets.
TRACE TM500 Meter with Shunt
Just what will the Trace Meter measure or record?

Battery Voltage: 8 to 32 VDC or to 70 Volts DC with optional 48 VDC adapter
Net Battery Current: 0.1 to 999 Amps DC
Battery Charge Level: 5% increments
Cumulative Amp Hours: Monitors battery bank use and provides estimated battery life information
Days since Full: Days since the battery bank was fully charged -- encourages proper battery management by indicating system problems
Battery Highest Voltage: Resettable, monitors charge controllers and battery chargers
Battery Lowest Voltage: Resettable, monitors system to detect malfunction or system failure.

Specifications Trace TM500

FUNCTION
RANGE
Battery Volts
8.0 - 35 VDC +/- 0.1VDC
16.0 - 70.0 VDC +/- 0.2VDC
Battery Amps

Resolution

0.1 -- 999 Amps DC +/- 1.5% (+ least significant digit)
0.1 Amp DC (0.1 to 99.9 Amps DC)
1.0 Amp DC (100 to 999 Amps DC)

Battery Level %
Lo, 30 to 90% in 5% increments, Full
Current Draw
16 Milliamps (with display OFF)
32 Milliamps (with display ON)
Ampere Hours
0.01 + --167,000 Amp Hours
DATA MONITORING FUNCTIONS
Days Since Full
0.01 -- 655 Days (reset if battery is disconnected)
Cumulative Amp Hrs. Removed
999,000 AH (retained even if battery is disconnected)
Battery Highest Volts
up to 35.1 VDC resettable (standard 12-24 VDC systems)
up to 70.2 VDC resettable (with optional 48 VDC adapter)
Battery Lowest Volts
down to 8.0 VDC resettable (12-24 Volt Systems)
down to 16.0 VDC resettable (with 48 Volt adapter)
MECHANICAL
Size
H=4.55" W=4.55" D=1.725"
Mounting
Surface or Flush Mount, fits 2 gang plastic outlet box.
Display
3 digit, seven segment, red LED numeric display with 5 additional LED indicators
Shipping Weight
3 lbs
WARNING INDICATORS
Flashing Led Indicators
Recharge Reminder (adjustable) 1--99 days
Low Battery Voltage Condition (adjustable)
Shunt Type
Deltec 500 Amp 50 MV (Available with or without)

Note: All specifications subject to change without notice.

TRACE Meter Pricing

A battery system monitor is a value for any off grid or backup power installation. Depending on model, you can display volts, amps, amp-hours, battery time remaining, or even battery charging efficiency and average depth of discharge.
Model
Description
Our Price
TM500A
Accumulating amp/hr system monitor for 12, 24 and 48* volt DC systems, displays percentage of battery power remaining (comes with 500 amp shunt and 50' cable)
CLICK FOR PRICE
TM500A - NS
Amp/hr voltage system meter for 12, 24 and 48* volt DC systems, displays percentage of battery power remaining (no shunt - requires 500 amp/50 mv Deltec shunt)
CLICK FOR PRICE

---
All trademarks are the property of their respective owners.
---
We have been working with solar energy & battery systems since 1969... three and a half decades.
Thirty Seven Years Experience!!

The Most Complete Renewable Energy
Product Inventory
There are almost 500 Pages on this Web site. At over 11,700 items it is one of the world's largest Renewable Energy web sites. Take some time to check out the amazing and essential products we offer.
Our solar panels are the lowest price on the planet!
---
Some manufacturers do not permit the posting of less than List Prices on the web. We sell for less.
PLEASE CALL TOLL FREE 888-826-0939 FOR PRICING!
Low Price Guarantee! If you think you find a better price anywhere, call us before you buy. We'll fix you up.