Point of Use Hot Water Heaters
REAL PEOPLE - NOT "BUY IT" BUTTONS - 888-826-0939

ARISTON Mini Tank Water Heaters
Ariston GL 2.5 mini-tank stores 2.5 gallons of water. Ideal for single sinks.* We use one of these with a timer to make hot water everyday when our batteries are full from our solar panels. Rather than waste the solar power, we make hot water. It's a cheap, simple and easy alternative to a diversion controller set up. Simple 110 volt, plug-in connection. Shipping weight 22 Lbs.

PRICE: $129.97


Ariston GL 4 mini-tank stores 4 gallons of water. Increased capacity supplies two sinks.* This unit is also a 110 volt plug in connection. Can be used the same way on a timer as above. Perfect for conventional houses with remote wash rooms. Shipping weight 25 Lbs.
PRICE: $ 137.97

Ariston GL6+ mini-tank stores 6 gallons of water. Maximum capacity supplies two or more sinks. Mounts vertically or horizontally.* This is a great unit and it still will mount under a sink in a cabinet. This is a 110 volt unit that requires hard wiring. Shipping weight 35 Lbs.
PRICE: $ 159.97
*These products are not be approved in Canada.

POWERSTAR Tankless Point-Of-Use Heaters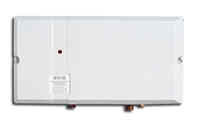 POWERSTAR instantaneous point-of-use water heater is available in 4 models (dependent on desired temperature rise and flow rates).
MODEL

Description

WIRE SIZE

VOLTAGE

AMPS

HIGH† KW

LOW‡ KW

DEGREE RISE AT FLOW RATES (GPM)
MINIMUM
FLOW
RATES
(GPM)**


0.5
0.75
1.0
1.5
CEC-70709
AE 3.4
10 GA
120
29
3.4
---
41°F
28°F
20°F
14°F
0.50
CEC-70710
AE 7.2
10 GA
240
30
7.2
--
n/a
63°F
48°F
31.5°F
0.75
10 GA
240
15
--
3.50
32°F
24°F
16°F
12°F
0.50
CEC-70711
AE 9.5
8 GA
240
35
9.50
--
n/a
84°F
64°F
42°F
0.75
8 GA
240
18
--
4.75
42°F
32°F
21°F
16°F
0.50
New Thermostatic Model:
CEC-70712
AE 12

6 GA
240
50
12.00
--
n/a
81°F
81°F
54°F
0.75
6 GA
240
50
--
n/a
50°F
50°F
50°F
0.75
The POWERSTAR saves energy and water, mounts in any direction (except for the AE 12 model), and comes with a 5-year warranty on heat exchanger.

Model
VOLTAGE
RATING
PRICE
CEC-70709
120 volt
3.4 Kw
$169.97
CEC-70710
240 volt
7.2 Kw
$169.97
CEC-70711
240 volt
9.5 Kw
$169.97
NEW Thermostatic Model:
CEC-70712
240 volt
12 Kw
$189.97

Shipping weight all Models 6 Lbs.

Hot Water System Protector
Don't risk your Hot Water Heater investment! Get a CUNO hot water protection system for your Water Heater. The filter installs on the cold water feed line before entering the Heater.
These systems protect and maintain the efficiency of hot water heaters and systems by preventing the buildup of scale, rusting and corrosion in pipes. The most reasonably priced insurance to maximize the efficiency of all hot water systems. No system should be without one.
Provides a consistent dose of Siliphos®, a 100% pure food grade scale inhibitor approved by the USDA that meets purity requirements set by the World Health Organization.
Siliphos sequesters or binds Calcium and Magnesium hardness minerals, preventing them from precipitating out of solution and building up on metallic surfaces. Siliphos also forms a thin protective layer on the pipe walls and other metallic surfaces which help to prevent buildup and corrosion.
CAP-20430 Stainless Steel Complete System Protector PRICE: $67.97
CAP-20431 Replacement Filter Cartridge PRICE: $27.97
Download CUNO Filter.PDF Data Sheet

We have been working with solar energy & battery systems since 1969... three and a half decades.
Thirty Eight Years Experience!!

The Most Complete Renewable Energy
Product Inventory
There are almost 500 Pages on this Web site. At over 11,700 items it is one of the world's largest Renewable Energy web sites. Take some time and scroll down this page to check out the amazing and essential products we offer.
Our solar panels are the lowest price on the planet!

Some manufacturers do not permit the posting of less than List Prices on the web. We sell for less.
PLEASE CALL TOLL FREE 888-826-0939 FOR PRICING!
Low Price Guarantee! If you think you find a better price anywhere, call us before you buy. We'll fix you up.