LIFELINE BATTERY
REAL PEOPLE - WWW.THESOLARBIZ.COM - 888-826-0939
---
We have been in the battery business since 1969 - Forty-nine years. Please give us a call toll free 888-826-0939 if you have questions or need any assistance whatsoever.
Click here for current Lifeline Pricing
---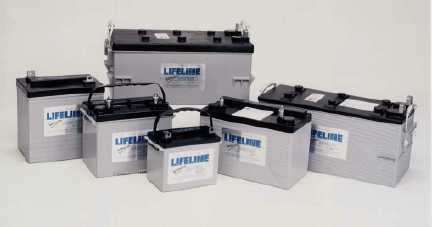 Lifeline Battery has been a leader in research, development and production of sealed lead acid batteries for the US Navy and US Air Force. Their current LIFELINE Battery series is designed for marine, RV (Recreational Vehicles), UPS, inverter stand-by and photovoltaic applications in order to correct many of the shortcomings of the sealed gel (GEL-CELL) batteries.
LIFELINE AGM BATTERY construction maintains the sealed aspects of gel batteries while reducing their chronic recharge sensitivity. In addition, LIFELINE AGM BATTERY technology increases Amp-Hrs., Cranking Performance, Reserve Capacity, Depth of Cycle and Cycle Life over gel technology.
NEW AGM TECHNOLOGY SEALED MAINTENANCE FREE BATTERIES WITH TWICE THE CYCLE LIFE OF GEL BATTERIES & FASTER RECHARGE
This increased performance has made LIFELINE Batteries original equipment on many high quality commercial ships and pleasure craft including Island Packet, Pacific Seacraft, Samuel Morris, Elco Electric Boats, Washington Water Bus, Alden Yachts, Hinkley Yachts, Santa Cruz Yachts, Whitecat Marine, Equitable Ship Builders, and Broward Marine.
LIFELINE Batteries are original equipment on Fleetwood, Vantare, Marathon, Paramount, Vision and Royal motor coaches and recreational vehicles where inverters such as OutBack, Magnum, Xantrex and other manufacturers apply heavy loads to batteries.
Their efficient charge acceptance and low internal discharge also make them ideal for photovoltaic and UPS applications where sealed batteries are desired.
LIFELINE BATTERIES EXCEED SAFE BATTERY TESTS
LIFELINE BATTERY HAS SUBMITTED ALL OF THEIR MARINE, RV, UPS, TELECOM, MOBILITY (EV) AND SOLAR VALVE REGULATED SEALED LEAD ACID (VRSLA) BATTERIES TO THE U.S. DEPARTMENT OF THE NAVY FOR TESTING TO MILITARY SPECIFICATION #MIL-B-8565J (HYDROGEN GAS EMISSION).
TESTING HAS BEEN PERFORMED BY UNDERWRITERS LABORATORIES ON THE LIFELINE BATTERIES AND THEY HAVE BEEN FOUND IN COMPLIANCE WITH UL924 AND UL1989. LIFELINE AGM BATTERIES ARE A UL RECOGNIZED SYSTEM COMPONENT.
AGM TECHNOLOGY - THE DIFFERENCE
Read our article Battery Comparison Between AGM and Other Types
Some of the main differences between the old vented lead acid batteries and the LIFELINE AGM valve regulated sealed lead acid batteries are:

• The electrolyte is absorbed in a glass mat (AGM) separator in the LIFELINE and it is spillable in the flooded or vented type.

• The cells have pressure relief valves in the LIFELINE that are designed to keep positive pressure in each cell. The older vented or flooded type battery cells are open to atmosphere through the vent cap holes (should the vented battery be tilted or inverted, the result can be electrolyte (sulfuric acid/water mixture) spilled all over your equipment, a highly corrosive and potentially dangerous condition).

• The cell groups in the old vented type batteries are loosely packed and thus have high plate separation. In contract, the LIFELINE AGM marine battery has every square inch of positive and negative plate material tightly packed and compressed with the AGM and supported by the walls of each cell. With this type of construction, LIFELINE offers much lower internal resistance ... greater starting power (particularly in cold temperature) ... and a much higher degree of protection against shock and vibration than the old flooded type.
Click Here To Download The Lifeline Batteries Brochure
(Click to download and save on your computer. PDF format. Adobe Acrobat viewer required for viewing.)
---
Charging AGM Batteries:
A temperature compensated charging source is highly recommended.
Charging profiles at 70° F for Lifeline® AGM batteries are as follows:
Bulk Charge Voltage: 14.4 Volts DC
Float Charge Voltage: 13.4 Volts DC
Extended Float (Storage) Voltage: 13.0 Volts DC
Equalization: 15.5 Volts DC for 3 hours.
Click here for current Lifeline Pricing
Part Number
Volts
Overall Dimensions
Unit Wt lbs (kg)
Cold Cranking Amps
Capacity
Ampere
Hours
Minutes of Discharge
L
in (mm)
W
in (mm)
H
in (mm)
68º F
32º F
0º F
20 Hr
Rate
25 Amps
15 Amps
8 Amps
GPL-U1T
12
7.71 (196)
5.18 (132)
6.89 (175)
24 (10.9)
325
275
215
33
50
93
185
GPL-24T
12
11.13 (283)
6.77 (172)
9.25 (235)
56 (25.5)
800
680
550
80
149
259
524
GPL-27T
12
12.01 (305)
6.60 (168)
9.25 (235)
65 (29.5)
845
715
575
100
186
324
655
GPL-31T
12
12.90 (328)
6.75 (172)
9.27 (236)
69 (31.4)
880
750
600
105
195
340
688
GPL-31-2V
2
12.90 (328)
6.75 (172)
9.27 (236)
69 (31.4)
NA
NA
NA
640
NA
NA
NA
GPL-4DA
12
20.76 (527)
8.70 (221)
9.44 (240)
135 (61.2)
1595
1360
1100
210
390
680
1375
GPL-4DL
12
20.76 (527)
8.70 (221)
9.76 (248)
135 (61.2)
1595
1360
1100
210
390
680
1375
GPL-4C
6
10.27 (261)
7.12 (181)
10.24 (260)
66 (30.0)
1095
925
750
220
492
856
1692
GPL-6C
6
10.27 (261)
7.12 (181)
12.65 (319)
82 Lbs
1400
NA
NA
300
690
1200
2205
GPL-8DA
12
20.76 (527)
10.89 (277)
9.65 (245)
162 (73.6)
1975
1675
1350
255
475
825
1670
GPL-8DL
12
20.76 (527)
10.89 (277)
9.65 (245)
162 (73.6)
1975
1675
1350
255
475
825
1670
Click here for current Lifeline Pricing
---
Part Number
Volts
Overall Dimensions
Unit Wt
lbs (kg)
Cold Cranking Amps
Minutes of Discharge
L
in (mm)
W
in (mm)
H
in (mm)
68º F
32º F
0º F
25 Amps
GPL-1400
12
9.78 (249)
5.17 (132)
6.83 (174)
32 (14.5)
850
700
550
90
GPL-3100T
12
12.90 (327.8)
6.58 (167.2)
9.27 (235.5)
67 (30.4)
1120
950
810
228
GPL-2700T
12
12.01 (305)
6.60 (168)
9.25 (234.8)
63 (28.6)
1020
900
745
206
GPL-2400T
12
11.13 (282.7)
6.60 (167.6)
9.25 (234.8)
53 (24.1)
870
790
650
172
Terminals: GPL-24T, GPL27T & GPL-31 T are heavy duty copper alloy Marine Terminals. GPL-1 300T is a 10-32 copper alloy threaded insert and the GPL-1400T is a 8mm copper alloy threaded insert. The GPL-ULT is a 1/4"-20N.C. copper alloy threaded insert. All 'T' batteries supplied with brass bolts and washers. A= Automotive post. L= L bladed terminal 5/16" bolt hole and supplied with bolts and washers.

Handles: "T" models= Handles are built into cover design. GPL-24T and GPL-27T also incorporate strap handles. Handles not available on part number GPL-4C. Models GPL-4D & GPL-8D are equipped with rope handles.

Ratings: Capacity ratings are stated at 77°F (25 °C) to 1.75 volts per cell.

Drawings: Product drawings for each model available upon request.

Click here for current Lifeline Pricing
We Have a Low Price Guarantee - Prices do not include shipping (see below)
TRUCK FREIGHT
All the Lifeline batteries up to 70 lbs are UPS shipable. The larger size Lifeline battery and quantities of four Lifeline batteries or more are shipped truck freight, which will save you money over UPS.
The best and cheapest rate for truck freight shipping is for you to pick your Lifeline batteries up at a local freight terminal. They usually will help you load your truck.
The second best rate is a commercial drop point. A fork-lift or loading dock should be available.
A residential delivery, if possible, is usually $45 to $95 more than a commercial business delivery. Most residences are not capable of handling a 40' semi and most don't have the fork-lift capability to quickly unload.
A lift gate, not always available, (which drops the batteries off at ground level), is usually an additional $80 to $100 in extra fees.
---
We have been working with solar energy & battery systems since 1969... Almost a half Century.
Forty-Nine
Years Experience!!

Real People - Real Savings
We are a full service company. We want a real person to consult with you because, we want to be sure that you don't waste your money and that you only buy what you need.

We recommend that you talk with us first about your solar power needs. Please use our expertise as a resource.
If you think you find a better price anywhere, call us before you buy.
Call us Toll Free at 1-888-826-0939
PLEASE NOTE:
Hours, Monday thru Friday 9:00 AM to 6:00 PM Central Time.
OH DARN! We make every effort to be exact with out specifications, copy and photography. Errors do occur sometimes, and we apologize for them. We reserve the right to make changes and correct errors to prices and specifications whenever and wherever necessary. We also reserve the right to limit quantities and change pricing. We do appreciate your understanding.
---