Trojan Battery
REAL PEOPLE - WWW.THESOLARBIZ.COM - 888-826-0939
---
We have been in the battery business since 1969 - Forty-Four years. Please give us a call toll free 888-826-0939 if you have questions or need any assistance whatsoever.
Important Downloadable Bulletins for Battery Users.
CAUTION: to all salt water sailors... Chlorine gas, deadly in small doses, is the result of mixing sulfuric acid with saltwater. For this reason we don't recommend ever venturing out in salt water with Wet Cell batteries. Choose either a LIFELINE AGM or a UPG AGM battery for your boat.
---
Performance, reliability and value! These are the primary benefits of Trojan's deep cycle battery product line.
• Alpha Plus crystals are part of Trojan's proprietary, high-density paste formulation.
• Alpha exists as long needle-shaped crystals of lead dioxide (Pb02) which act together to form an interlocking 3-D structure.
• Alpha Plus crystals posses great strength and low electrical resistance.
• Alpha's strength and structure enhance Trojan Batteries paste formulation, much as steel bars reinforce concrete.
How You Benefit From Alpha Plus Technology!
• Its electrical properties and geometric pattern means:
• Improved durability of the positive plate during use, thereby increasing cycle life.
• Greater current flow (lower resistance), thereby increasing the battery's usable capacity (run time).
• Spent particles of active material are trapped, thereby preventing shedding which leads to reduced battery life.
WE CARRY THE FULL LINE OF TROJAN BATTERIES CLICK HERE FOR LISTINGS AND PRICING
---
L16RE A & B
---
Trojan T-105RE
We have a nation-wide network of Trojan Battery distribution points across the US, so you can pick them up yourself and save the freight*. *Most locations have a small pickup fee.
---
Our LOW Pricing Is Always The Best!
BUYERS BEWARE: There are solar/battery web sites selling Batteries with Apparent High Amp Hour capacities advertised at the 100 hour rate (i.e. C/100) We don't believe the 100 hour rate is a practical listing for battery buyers. It just a way to make a battery look larger and better than it actually is (higher Amp Hour number)
All of our battery Amp Hour ratings are honestly listed at the industry standard 20 hour rate (a lower Amp Hour number) Our low pricing is always the best... if somebody else's pricing looks to be better BEWARE of the 'ole amp hour rate switcheroo. We have been in the battery business since 1969 - Thirty-Seven Years. We haven't been in business this long by fooling our customers. Please give us a call toll free 888-826-0939 if you have questions or need any assistance whatsoever.
See Our Elegant Battery Filling Systems
---
TRUCK FREIGHT NOTICE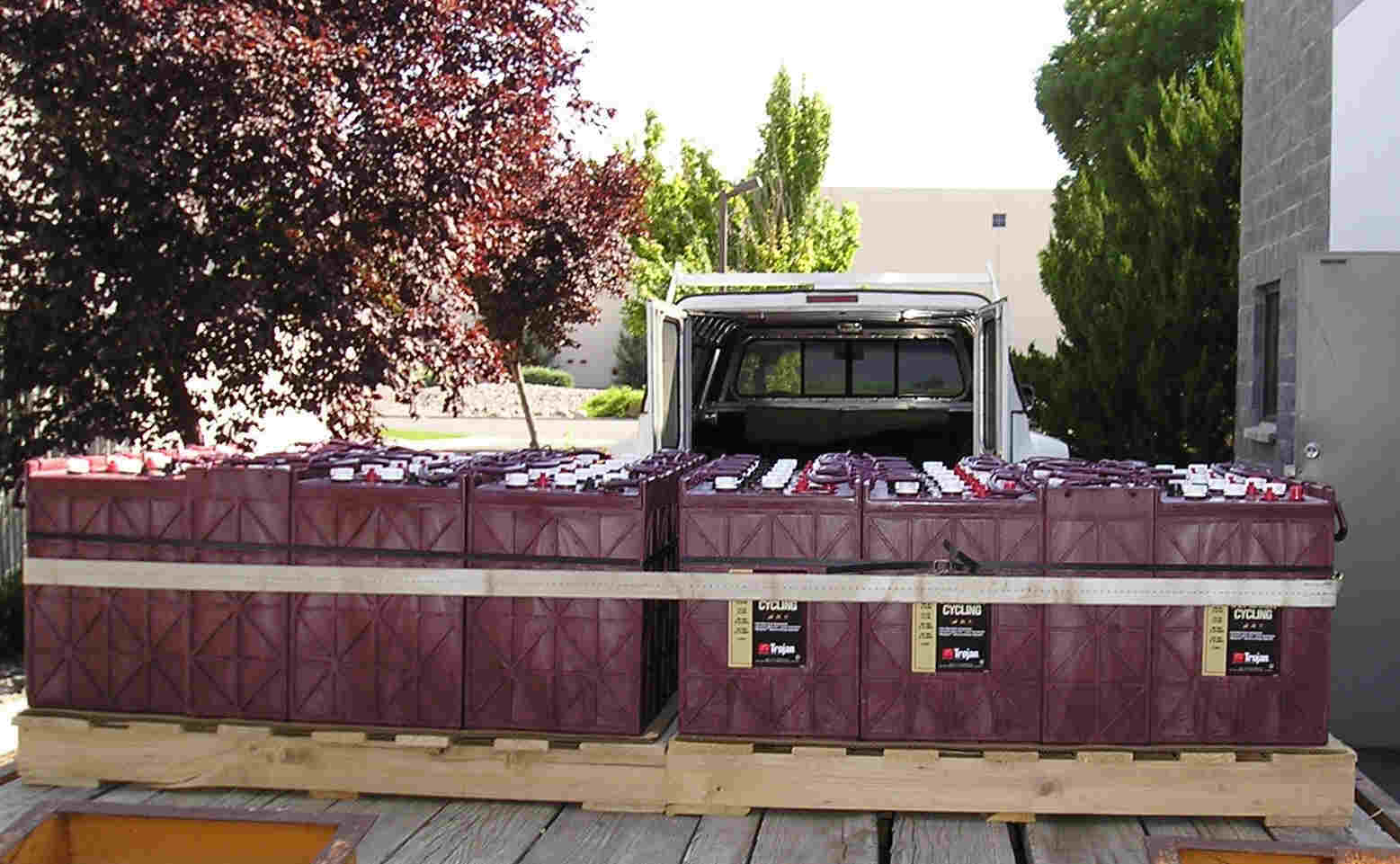 The best and cheapest rate, for a truck freight shipment, is where you pick your batteries up at a local freight terminal. They will usually help you load your truck.
The second best rate is a commercial drop point. If you're ordering more than four batteries a fork-lift should be available.
A residential delivery, if possible, (NOT RECOMMENDED) is usually $100 to $165 more than a commercial business delivery. Most residences are not capable of handling a 40' semi and most don't have the fork-lift capability to quickly unload. The driver will not help you unload. Our experience shows less than 1 in 5 work out well
A lift gate, not always available, (which drops the batteries off at ground level), is usually an additional $80 to $100 in extra fees.
Pictured above are two pallets of batteries picked up, with no freight charges at all!, at one of our nationwide Trojan Battery distribution points by a couple of our good customers in Reno, NV using their own car trailer. (they saved a bundle on shipping, and you can too!) If you look close you can see the batteries are strapped together on the pallets. This is how your batteries will be delivered.
---
We have been working with solar energy & battery systems since 1969... Over Four Decades.
Forty Four
Years Experience!!
Our Solar Panel Prices are The Best on The Planet

We are a full service company. We want a real person to consult with you because, we want to be sure that you don't waste your money and that you only buy what you need.

We recommend that you talk with us first about your solar power needs. Please use our expertise as a resource.
If you think you find a better price anywhere, call us before you buy.
REAL PEOPLE - WWW.THESOLARBIZ.COM - 888-826-0939
International 575-539-2111
Central America (Panama) 507-730-7865 or 507-6126-1253
California Proposition 65 Warning
Battery posts, terminal, and related accessories contain lead and lead compounds, chemicals known to the State of California to cause cancer.