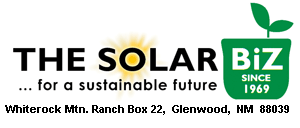 Home Page Products Overview The Sustainable Lifestyle Testimonials Rebates & Incentives News & Events Links About Us
Used Solar Panels
REAL PEOPLE - WWW.THESOLARBIZ.COM - 888-826-0939
---
This page contains pre-owned modules and module racks. They are being offered for sale as is, All sales are final.
As most of this equipment is being offered for sale by our customers, thru and not by The Solar Biz, we have no first hand knowledge of the actual condition of the equipment. Most of the equipment has been used in our customers systems and is being removed because they are either expanding their system and trading up to new equipment, or they are moving and selling off their systems.
All in all you can get a really good deal if this equipment is what you need. In some instances the modules listed are no longer available from any other source, so if you need to add to an older existing system and new panels your size are now discontinued, you have found a treasure trove, at bargain pricing.
Current thinking is that modules (good ones) will probably last 80 or more years. So 10 or more year old modules have plenty of power left.
---
Power-Fab Top-of-pole Racks for 6 Shell SQ-175 Modules
These are brand new Top-of-Pole racks There are (3) Three racks available, take one or all your choice. One rack has been opened and looked at and the other two have never been out of the original boxes.
If you have Shell or Solar World modules, or if you are willing to re-drill the racks for other modules (the modules are about the same size as many other modules of this wattage range) you can have brand new Power-Fab racks at way less than wholesale!
List Pricing on these racks are $920.00 each.
Requires purchase of a new or used 6 inch schedule 40 mounting pipe (purchased locally). Schedule 40 pipe is 6.625 inches outside diameter, so the gimble fits over this size pipe only.
Call Tom for mounting tips 888-826-0939.
FOB Utah. Can ship UPS to your location, 1 rack is 4 boxes or can ship truck freight (Cheaper) if you want all three racks.
SOLD OUT
Check our SPECIALS page for other great bargains
---
We have been working with solar energy & battery systems since 1969... more than three and a half decades.
Thirty Eight Years Experience!!

The Most Complete Renewable Energy
Product Inventory
There are almost 500 Pages on this Web site. At over 11,700 items it is one of the world's largest Renewable Energy web sites. Take some time to check out the amazing and essential products we offer.
Our solar panels are the lowest price on the planet!
---
Some manufacturers do not permit the posting of less than List Prices on the web. We sell for less.
PLEASE CALL TOLL FREE 888-826-0939 FOR PRICING!
Low Price Guarantee! If you think you find a better price anywhere, call us before you buy. We'll fix you up.