SOLAR Outdoor Lighting
REAL PEOPLE - NOT "BUY IT" BUTTONS - 888-826-0939

The Solar Biz Outdoor Lighting Systems can be used on a pole for area lighting or street lighting, Or hooked up to 1/2" conduit for ground or wall installations. They may also be used for billboard lighting or outdoor sign lighting. When more light is desired, multiple units may be used. The light fixture and the PV modules (solar panels) will mount on a pole or flat surface.

DC Street and Parking Lot Lighting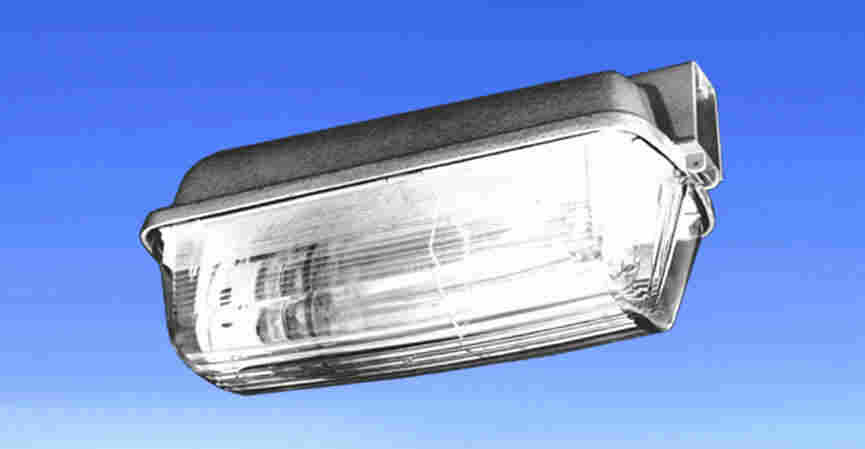 This light fixture is an outdoor type, with a 35 watt low pressure sodium [LPS] lamp producing yellow-orange light delivering the highest lumens per watt, even in freezing climates.
Dimensions are 27" X 7.5" X 9". Outdoor fixture housing is corrosion resistant aluminum for 2" pipe-arm mounting, with a hinged unbreakable prismatic lens. Designed for DC operation. Includes DC ballast and SOX type-LPS 35 watt lamp.
SRX-LPS 35 PRICE: $425.97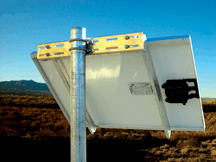 Lighting Kit for dusk to dawn operation of the SRX-LPS 35 fixture includes all the components you will need for a professional installation:
1 SRX-LPS 35 light fixture, 1 BP 3115S 115 watt solar module, a UniRac 400101 side-of-pole mounting rack for a 2.5" sch. 40 pipe, an Atkinson charge controller, PC-120 Photoswitch, 1 Concorde 105 AH Maintenance Free AGM Battery and a OES 131 Powder Coated aluminum rain-tight enclosure for the battery and charge controller.
Due to the many installation variations possible, necessary wiring is not included in the kit, and should be procured locally
SRX-LPS Kit PRICE: $1649.97
Pricing does not include freight

LED Outdoor Security Floodlight 12Vdc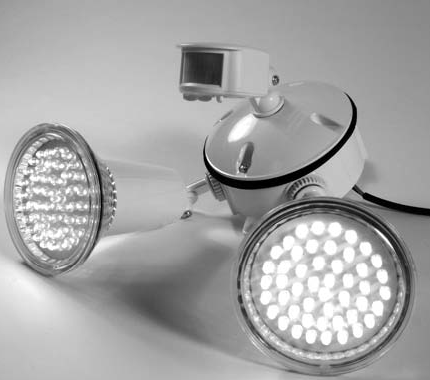 This ready to install outdoor security floodlight is pre-wired with passive infrared (PIR) motion detector and 20 foot cable. White powder-coated aluminum round box with gasketed cover and lamp holders is corrosion-proof and rated for wet locations. The motion detection range is 30 meters at a 120 degree angle; self-resetting adjustable time base from 6 seconds to 12 minutes. day/night mode.
You can choose from 48-LED's to 99-LED's and also you can have a 1 lamp fixture or 2.
(1) 48-LED Fixture PRICE: $199.97
(2) 48-LED Fixture PRICE: $249.97
(1) 99-LED Fixture PRICE: $234.97
(2) 99-LED Fixture PRICE: $309.97
Underwater Fountain and Pond Lighting
Lunaqua The new generation LED Solar Spotlight incredible lighting effects both underwater and above. 15 LEDs for long life and a miniscule power consumption of 2.5 watts at 12 volts. Supplied with a generous 16 foot cable.
PRICE: $154.97
27/45 LED Wall/Ceiling/Fence Outdoor Spotlight Fixture
This versatile adjustable spotlight fixture, either 27-LED or 45-LED bright-white LED's emit a 20-30 degree light angle. Use for shelters, landscape/path, entry/exit lighting, wall washing, & small signage. Heavy-duty cast aluminum, waterproof housing in a black finish can mount almost anywhere including flush on a roof, wall, or fence. The 27-LED option uses 1 Watt. The 45-LED option uses 1.75 Watts.
27 LED PRICE: $72.97
45 LED PRICE: $79.97
LED "Bullet Outdoor Floodlight Outdoor Fixtures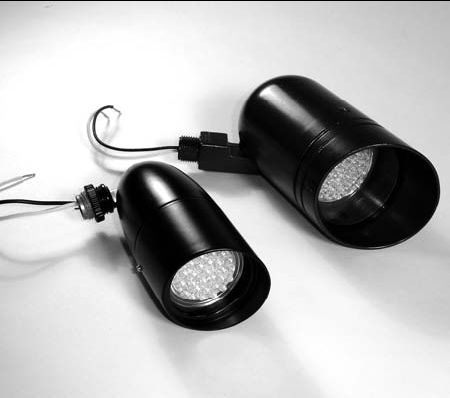 Premium UL listed outdoor fixtures are perfect for wet locations. Ideal for up or down-lighting, wall washing, flagpole, landscape, security, driveway spotlight, sign lighting, or area floodlighting. Each fixture features a durable cast aluminum, black powder-coated housing with o-ring sealed glass lens and sunshield. All include medium screw base 12Vdc white LED lamps. Adjustable pivot is for 1/2" conduit fitting, with 10ft outdoor cable attached. Select "Mightly Post" as seen below, for ground mounted installations where security isn't an issue. The mighty post can be submerged in concrete if vandalism is a threat. LED's are also available in red, blue, green, or yellow by special order. Please call for additional charges that colors incur.
This is a quality white LED spot or flood light that comes in varying sizes depending on your needs. It has a lamp life of 100,000 hours, or about 20 years.
For outdoor or indoor night time use we can design a complete solar or battery system for any number of these lights. You can also hook these lights up to one of our motion sensors.
A complete system includes an appropriately sized solar module, a mounting rack for the module, a charge controller, fusing and a deep cycle battery. Extra wiring may be required and can be provided upon request or obtained locally.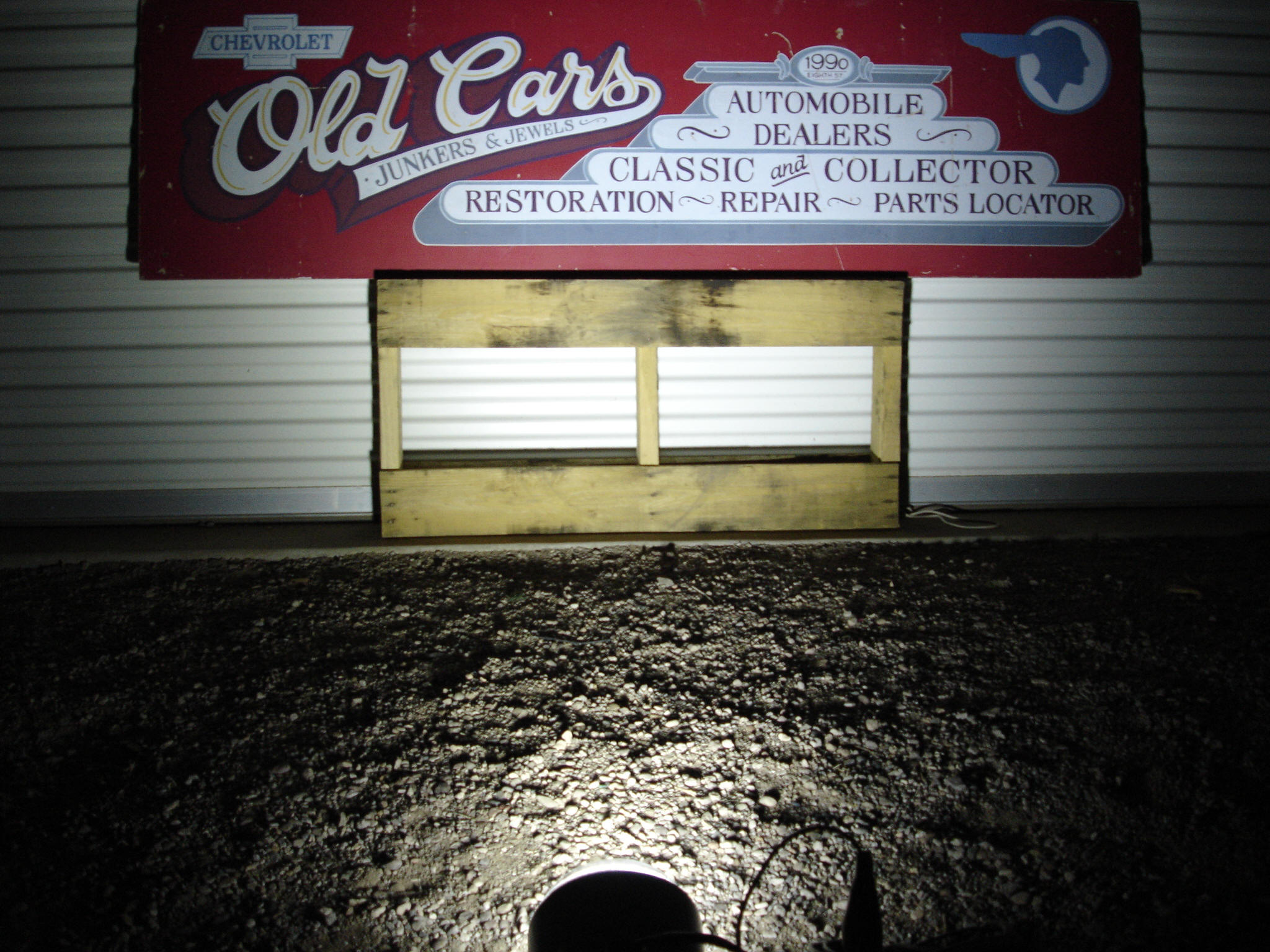 18 LED's PRICE: $119.97 Uses .8 Watts
27 LED's PRICE: $129.97 Uses 1 Watt
45 LED's PRICE: $139.97 Uses 2 Watts
99 LED's PRICE: $179.97 Uses 6 Watts
198 LED's PRICE: $249.97 Uses 12 Watts
This picture is of a 5ft sign from 14ft away using a 99LED fixture hooked up to a 12V battery.
LED INDUSTRIAL Floodlight Outdoor Fixtures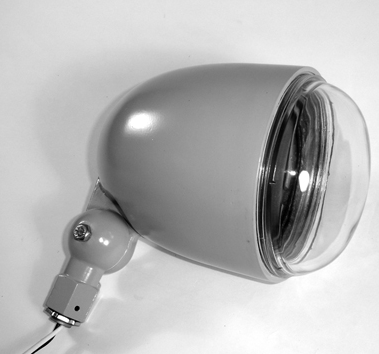 This rugged, outdoor fixture features a silver finished, heavy-cast aluminum body. The adjustable 1/2" conduit pivot and thick domed glass includes a threaded-sealed lens for dirty or high moisture locations. Built to last, this fixture is great for areas where air quality or ocean salt may cause corrosion on other fixtures. Use for wall washing, tall flag-poles, landscapes, security, Sign lighting, and almost any kind of area floodlighting. The light includes medium screw base, bright-white 12Vdc LED lamp that emits a 20-30 degree light angle.
99 LED's PRICE: $219.97 Uses 6 Watts
198 LED's PRICE: $289.97 Uses 12 Watts
99 LED Outdoor Floodlight Fixture
Our economy waterproof flood fixture includes bright-white 99-LED's which emit a 50-60 degree light angle. Suitable for driveway/area lighting, security, landscape, entry/exit lighting and sign lighting. Also includes pivoting bracket and sealed 10ft long output cable. The heavy-duty cast aluminum waterproof housing is in a white finish. This can be mounted almost anywhere including flush roof-tops, fences, and walls.
99 LED's PRICE: $129.97 Uses 6 Watts
Vandal Resistant Wall Ceiling Fixture - Flourescent
These indoor/outdoor fixtures have compact fluorescent lamps and are ideal with solar-powered battery charging systems for public buildings, restrooms, garages, parks, and bus stops. You have a 7watt and/or a 15watt choice. This is perfect for timer-based or on/off switch installations. Models with motion detectors built in are also available!
All fixtures feature a heavy-gauge steel base, reflector with gasket in white finsh with clear vandal resistant polycarbonate refractor and tamperproof screw. UL listed. Great for wet locations. These generally come in 12Volts DC. (24 Volt models available on special order.)
| | | | |
| --- | --- | --- | --- |
| Part Number | Description | PRICE without motion sensor | PRICE with motion sensor |
| VAN2-7 | 7 Watt compact Fluorescent vandal resistant Dimensions: 8.5" X 8.5" X 4.1" | $124.97 | $194.97 |
| VAN2-15 | 15 Watt compact Fluorescent vandal resistant Dimensions: 8.5" X 8.5" X 4.1" | $129.97 | $199.97 |
| VAN5-23 | 23 Watt compact Fluorescent vandal resistant Dimensions: 12" X 12" X 9" | $299.97 | NA |
| VAN5-30 | 30 Watt compact Fluorescent vandal resistant Dimensions: 12" X 12" X 9" | $309.97 | NA |
| VAN5-45 | 45 Watt compact Fluorescent vandal resistant Dimensions: 12" X 12" X 9" | $311.97 | NA |
DLS Area and Street Lighting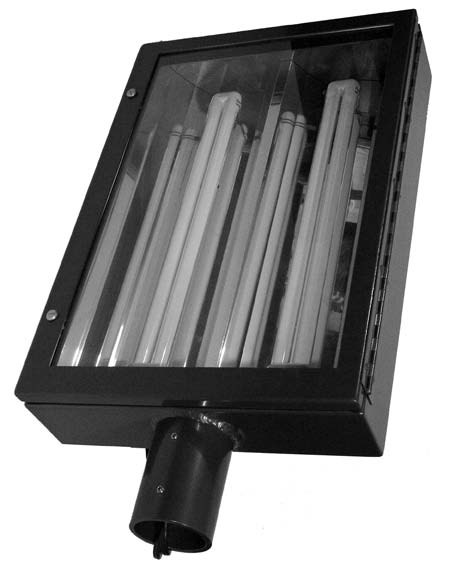 The DLS outdoor light fixture is designed for floodllighting large areas, for use with either low pressure sodium (LPS) or flourescent lamps. Flourescent is what comes standard, however LPS lamps can be ordered specially. This aluminum fixture body is powder coated dark bronze and includes captive screw hinged door with gasket and clear polycarbonate unbreakable lens. Welded rear collar set screw fitting for 2" pipe attachment. It has a multi-faceted polished-parabolic aluminum reflector which enables enhanced light output over a 2500 square ft area. Fixture is designed for remote ballast(s) and includes 30ft output cable with strain relief fitting. DC Ballast is sold seperately.
| | | |
| --- | --- | --- |
| Part Number | Description | PRICE |
| 251DLS003 | 36 Watts Fluorescent with 1 bulb. 2900 lumens. 12Vdc. 2.2 amps | $419.97 |
| 251DLS004 | 36 Watts Fluorescent with 2 bulb. 5800 lumens. 12Vdc. 4.4 amps | $434.97 |
| 251DLS001 | 35 Watt Low Pressure Sodium. 4800 lumens. 12Vdc. 3 amps | $474.97 |
| 251DLS001 | 55 Watt Low Pressure Sodium. 8000 lumens. 12Vdc. 2.2 amps | $494.97 |
DC Ballast PRICE: $49.97

Outdoor Solar Fluorescent Lantern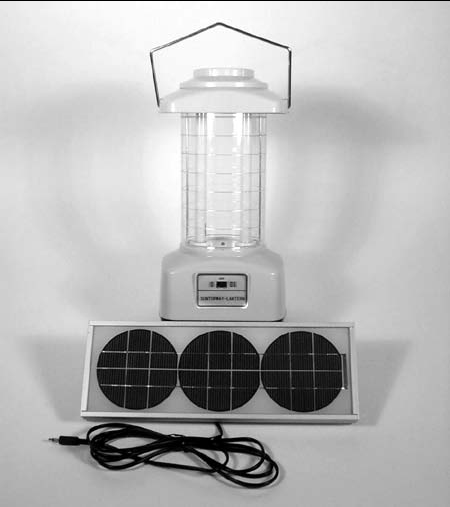 The popular hanging lantern design is perfect for camping or emergency lighting. It is Durable molded plastic. Waterproof and self contained with a sealed battery and dual 6 watt lamps. Features include a one or two lamp selection switch and a 3 Watt solar module with cord and plug, 115Volt AC adapter and charging LED. Built-in circuitry prevents battery overcharge and over-discharge. Solar panel packaged separately. Models for export and for European and African countries(230Vac adapter) available.
PRICE: $95.97
18 LED Spotlight Complete System
This ready to install, stand-alone solar powered LED spot light works every night from dusk to dawn. It does not even matter if you don't have any sun to charge the battery for a full week! Select your system size depending on your location.
Group Sizes are categorized as follows (A= Southwest, B= Midwest, C= Western coastal regions, D= Mid to South East, E= Mid to North Eastern coastline.) This system operates a 18 LED (light emitting diode) spotlight. Designed for flagpole lighting, small signage, entrance-walkway and path lighting. Features Include vandal resistant enclosure system, solar module with roof/pole/wall mount bracket, sealed battery, solid state system controller, dusk to dawn sensor, 18 LED premium outdoor 'Bullet' fixture and ready wiring post. System designed for 10-20ft flagpole, landscape path, tall trees, security, small signs and entry/exit spotlight. 1 year system warranty.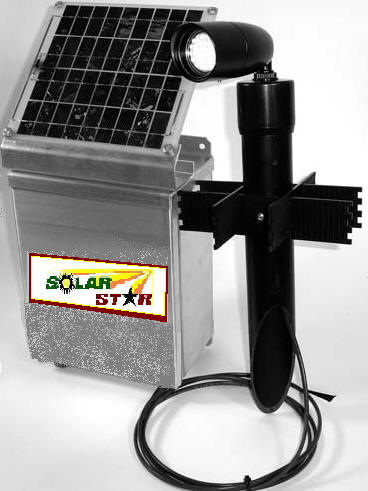 | | | |
| --- | --- | --- |
| Part Number | Description | PRICE |
| 18LED6W | Good for group A | $649.97 |
| 18LED12W | Good for Group B, and D | $759.97 |
| 18LED18W | Good for Group C, and E | $859.97 |

Call for more info 888-826-0939
The Most Complete Renewable Energy
Product Inventory
There are over 400 Pages on this Web site. It is one of the world's largest Renewable Energy web sites. Take some time and check out the amazing and essential products we offer.
Our solar panels are the lowest price on the planet!